Package: subversion (1.11.0~rc2-1 and others)
Links for subversion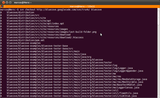 Debian Resources:
Download Source Package subversion:
Maintainer:
External Resources:
Similar packages:
Experimental package
Warning: This package is from the experimental distribution. That means it is likely unstable or buggy, and it may even cause data loss. Please be sure to consult the changelog and other possible documentation before using it.
Advanced version control system
Apache Subversion, also known as svn, is a centralised version control system. Version control systems allow many individuals (who may be distributed geographically) to collaborate on a set of files (source code, websites, etc). Subversion began with a CVS paradigm and supports all the major features of CVS, but has evolved to support many features that CVS users often wish they had.
This package includes the Subversion client (svn, svnsync), repository administration tools (svnadmin, svnlook) and a network server (svnserve).
Other Packages Related to subversion
Download subversion
Download for all available architectures

| Architecture | Version | Package Size | Installed Size | Files |
| --- | --- | --- | --- | --- |
| alpha (unofficial port) | 1.11.0~rc2-1 | 968.3 kB | 4,833.0 kB | [list of files] |
| amd64 | 1.11.0~rc2-1+b1 | 976.9 kB | 4,807.0 kB | [list of files] |
| arm64 | 1.11.0~rc2-1+b1 | 961.5 kB | 4,771.0 kB | [list of files] |
| armel | 1.11.0~rc2-1+b1 | 946.4 kB | 4,534.0 kB | [list of files] |
| armhf | 1.11.0~rc2-1+b1 | 951.8 kB | 4,430.0 kB | [list of files] |
| hppa (unofficial port) | 1.11.0~rc2-1+b1 | 971.1 kB | 4,633.0 kB | [list of files] |
| i386 | 1.11.0~rc2-1+b1 | 985.2 kB | 4,678.0 kB | [list of files] |
| m68k (unofficial port) | 1.11.0~rc2-1+b1 | 955.4 kB | 4,606.0 kB | [list of files] |
| mips | 1.11.0~rc2-1+b1 | 953.2 kB | 4,615.0 kB | [list of files] |
| mips64el | 1.11.0~rc2-1+b1 | 951.6 kB | 4,819.0 kB | [list of files] |
| mipsel | 1.11.0~rc2-1+b1 | 955.3 kB | 4,615.0 kB | [list of files] |
| ppc64 (unofficial port) | 1.11.0~rc2-1+b1 | 981.0 kB | 5,467.0 kB | [list of files] |
| ppc64el | 1.11.0~rc2-1+b1 | 993.1 kB | 5,403.0 kB | [list of files] |
| riscv64 (unofficial port) | 1.11.0~rc2-1 | 947.6 kB | 4,633.0 kB | [list of files] |
| s390x | 1.11.0~rc2-1+b1 | 957.2 kB | 4,803.0 kB | [list of files] |
| sh4 (unofficial port) | 1.11.0~rc2-1 | 1,000.9 kB | 4,547.0 kB | [list of files] |
| sparc64 (unofficial port) | 1.11.0~rc2-1+b1 | 937.7 kB | 4,800.0 kB | [list of files] |