Package: qdirstat (1.5-1)
Links for qdirstat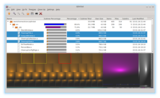 Debian Resources:
Download Source Package qdirstat:
Maintainer:
External Resources:
Similar packages:
Qt-based directory statistics
QDirStat is a graphical application to show where your disk space has gone and to help you to clean it up.
QDirStat has a number of new features compared to KDirStat. To name a few:

 * Multi-selection in both the tree and the treemap.
 * Unlimited number of user-defined cleanup actions.
 * Properly show errors of cleanup actions (and their output, if desired).
 * File categories (MIME types) and their treemap color are now configurable.
 * Exclude rules for directories are easily configurable.
 * Desktop-agnostic; no longer relies on KDE or any other specific desktop.

Other Packages Related to qdirstat
Download qdirstat
Download for all available architectures

| Architecture | Package Size | Installed Size | Files |
| --- | --- | --- | --- |
| amd64 | 470.6 kB | 1,414.0 kB | [list of files] |
| arm64 | 438.6 kB | 1,454.0 kB | [list of files] |
| armel | 412.0 kB | 1,229.0 kB | [list of files] |
| armhf | 418.2 kB | 1,013.0 kB | [list of files] |
| i386 | 502.7 kB | 1,469.0 kB | [list of files] |
| mips | 443.0 kB | 1,858.0 kB | [list of files] |
| mips64el | 446.5 kB | 1,942.0 kB | [list of files] |
| mipsel | 450.4 kB | 1,858.0 kB | [list of files] |
| ppc64el | 474.2 kB | 1,794.0 kB | [list of files] |
| s390x | 432.4 kB | 1,546.0 kB | [list of files] |