Package: qmenu (5.0.2-2 and others)
Links for qmenu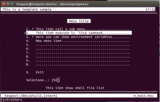 Debian Resources:
Download Source Package qmenu:
Maintainers:
External Resources:
Similar packages:
Tool to create simple menus for terminal interfaces
qmenu allows one to create menus for textual interfaces in an easy and intuitive way. Each menu is defined in a file describing the visual appearance and the menu items using a simple syntax.
Features include options to format the menu, bindings to function keys, possibility to include submenus, show help messages and launch shell sessions.
Other Packages Related to qmenu
dep:

libc6 (>= 2.14) [amd64]

GNU C könyvtár: megosztott könyvtárak
also a virtual package provided by libc6-udeb

dep:

libc6 (>= 2.17) [arm64, ppc64el]

dep:

libc6 (>= 2.4) [not amd64, arm64, ppc64el]

dep:

libncurses6 (>= 6)

shared libraries for terminal handling

dep:

libtinfo6 (>= 6)

shared low-level terminfo library for terminal handling