[ wheezy ]
[ Paquet source :
elvis
]
Paquet : elvis (2.2.0-11.1)
Liens pour elvis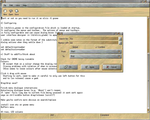 Ressources Debian :
Télécharger le paquet source elvis :
Responsable :
Ressources externes :
Paquets similaires :
powerful clone of the vi/ex text editor (with X11 support)
This package contains Elvis compiled with support for X11, Xft and background images. If you don't need the X11 interface, install elvis-console instead. See also: elvis-tools
Elvis is a clone of vi/ex, the standard UNIX editor. It supports nearly all of the vi/ex commands, in both visual mode and ex mode. Elvis adds support for multiple files, multiple windows, a variety of display modes (including syntax highlighting, man, tex, html and hex), an optional X11 user interface, on-line help, folding, spell checking, new options, auto commands, regions, enhanced tags, printing, aliases and an improved :map command.
Like vi/ex, Elvis stores most of the text in a temporary file, instead of RAM. This allows it to edit files that are too large to fit in a single process' data space. Also, the edit buffer can survive a power failure or crash.
Autres paquets associés à elvis
sug:

elvis-tools

text editing tools for programmers (elvfmt, elvtags, ref)
Télécharger elvis
Télécharger pour toutes les architectures proposées

| Architecture | Taille du paquet | Espace occupé une fois installé | Fichiers |
| --- | --- | --- | --- |
| sparc | 327,4 ko | 764,0 ko | [liste des fichiers] |