Paquet : monobristol (0.60.3-2.1)
Liens pour monobristol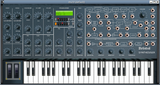 Ressources Debian :
Télécharger le paquet source monobristol :
Responsable :
Ressources externes :
Paquets similaires :
simple GUI for Bristol
monobristol provides a simple GUI for Bristol.
Bristol is synth emulation package for a diverse range of vintage synthesizers, electric pianos and organs. The application consists of a multithreaded audio synthesizer and a user interface called brighton.
Autres paquets associés à monobristol
rec:

jackd

JACK Audio Connection Kit (default server package)
Télécharger monobristol
Télécharger pour toutes les architectures proposées

| Architecture | Taille du paquet | Espace occupé une fois installé | Fichiers |
| --- | --- | --- | --- |
| all | 37,0 ko | 303,0 ko | [liste des fichiers] |