[ wheezy ]
Paquet : jsonbot (0.84.4-1)
Liens pour jsonbot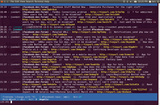 Ressources Debian :
Télécharger le paquet source jsonbot :
Responsable :
Paquets similaires :
Framework for building bots for IRC, XMPP and the Web
JSONBOT is a remote event-driven framework for building bots that talk JSON to each other over XMPP. This distribution provides bots built on the JSONBOT framework for console, IRC, XMPP for the shell and WWW, and XMPP for the Google App Engine. A plugin infrastructure can be used to write your own functionality.
Autres paquets associés à jsonbot
rec:

python-sleekxmpp

Python XMPP (Jabber) Library Implementing Everything as a Plugin

rec:

python-tornado (>= 2.2)

scalable, non-blocking web server and tools
Télécharger jsonbot
Télécharger pour toutes les architectures proposées

| Architecture | Taille du paquet | Espace occupé une fois installé | Fichiers |
| --- | --- | --- | --- |
| all | 834,6 ko | 3 600,0 ko | [liste des fichiers] |