Paquet : winetricks (0.0+20121030+svn918-1) [contrib]
Liens pour winetricks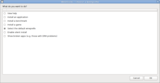 Ressources Debian :
Télécharger le paquet source winetricks :
Responsables :
Ressources externes :
Paquets similaires :
package manager for WINE to install software easily
A POSIX shell script 'package manager' for WINE to install some Windows software easily. The list of downloadable applications is retrieved over the net. The list contains about 70 applications including 3dmark2001, corefonts, cygwin, directx9, dotnet35, droid, firefox, flash, ie8, mspaint, msxml6, python26, quicktime76, safari, spotify, utorrent, vb6run, vcrun2010, vlc and xvid.
To use GUI progress bar, install package "zenity". To read manuals, install package "xdg-utils". If you need to cache *.iso files with -k option, install packages "sudo" (or sudo GUI "gksu").
An additional program winetricks-install-gecko can be used to install Mozilla Gecko.
NOTE: In case you have compiled wine from sources and installed it out of dpkg's control, winetricks' depends wouldn't know about it. In that case create a "dummy wine" package to satisfy depends by using tools in "equivs" package before installing winetricks. An example:

  git clone git@github.com:jaalto/project--debian-wine-dummy.git
  cd project--debian-wine-dummy
  make
  dpkg -i wine*.deb
  apt-get install winetricks

Autres paquets associés à winetricks
rec:

xdg-utils

Utilitaire d'intégration du bureau de freedesktop.org

rec:

zenity

Affiche des boîtes de dialogue graphiques à partir de scripts shell

ou kdebase-bin

Transitional package for new kde-baseapps
Télécharger winetricks
Télécharger pour toutes les architectures proposées

| Architecture | Taille du paquet | Espace occupé une fois installé | Fichiers |
| --- | --- | --- | --- |
| all | 166,4 ko | 721,0 ko | [liste des fichiers] |