Paquet : nuvola-icon-theme (4:4.8.4-5)
Liens pour nuvola-icon-theme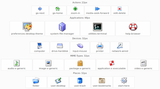 Ressources Debian :
Télécharger le paquet source kdeartwork :
Responsables :
Ressources externes :
Paquets similaires :
Nuvola icon theme
This package contains the Nuvola icon theme for KDE.
Nuvola follows the freedesktop.org icon schemes, so it can be used in other desktop environments using this specification.
This package is part of the KDE artwork module.
Télécharger nuvola-icon-theme
Télécharger pour toutes les architectures proposées

| Architecture | Taille du paquet | Espace occupé une fois installé | Fichiers |
| --- | --- | --- | --- |
| all | 11 345,0 ko | 17 629,0 ko | [liste des fichiers] |