Paquet : kompare (4:4.8.4+dfsg-1)
Liens pour kompare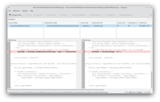 Ressources Debian :
Télécharger le paquet source kdesdk :
Responsables :
Ressources externes :
Paquets similaires :
file difference viewer
Kompare displays the differences between files. It can compare the contents of files or directories, as well as create, display, and merge patch files.
This package is part of the KDE Software Development Kit module.
Autres paquets associés à kompare
Télécharger kompare
Télécharger pour toutes les architectures proposées

| Architecture | Taille du paquet | Espace occupé une fois installé | Fichiers |
| --- | --- | --- | --- |
| mips | 410,6 ko | 1 148,0 ko | [liste des fichiers] |