Paquet : sshmenu (3.18-2)
Liens pour sshmenu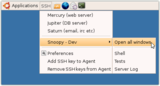 Ressources Debian :
Télécharger le paquet source sshmenu :
Responsable :
Ressources externes :
Paquets similaires :
Menu for quick connections to your remote hosts
sshmenu is a standalone application which puts all your most frequently used SSH connections on a menu. Click on a host name to open a new terminal window with an ssh connection to the selected host. Set up options for port forwarding, etc. using the preferences dialog.
Autres paquets associés à sshmenu
Télécharger sshmenu
Télécharger pour toutes les architectures proposées

| Architecture | Taille du paquet | Espace occupé une fois installé | Fichiers |
| --- | --- | --- | --- |
| all | 33,5 ko | 148,0 ko | [liste des fichiers] |