Paquet : octave (3.6.2-5+deb7u1)
Liens pour octave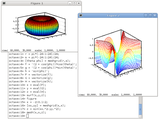 Ressources Debian :
Télécharger le paquet source octave :
Responsables :
Ressources externes :
Paquets similaires :
GNU Octave language for numerical computations
Octave is a (mostly Matlab (R) compatible) high-level language, primarily intended for numerical computations. It provides a convenient command-line interface for solving linear and nonlinear problems numerically.
Octave can be dynamically extended with user-supplied C++ files.
Autres paquets associés à octave
rec:

gnuplot-x11

programme de tracé interactif en ligne de commande - paquet X11
un paquet virtuel est également fourni par gnuplot-qt

ou gnuplot-qt

programme de tracé interactif en ligne de commande - paquet Qt
sug:

octave-doc

PDF documentation on the GNU Octave language

sug:

octave-htmldoc

HTML documentation on the GNU Octave language

sug:

octave-info

GNU Info documentation on the GNU Octave language
Télécharger octave
Télécharger pour toutes les architectures proposées

| Architecture | Taille du paquet | Espace occupé une fois installé | Fichiers |
| --- | --- | --- | --- |
| ia64 | 2 294,6 ko | 8 469,0 ko | [liste des fichiers] |