Paquet : musetup-gtk (1:0.2+svn20100315.r1208-2)
Liens pour musetup-gtk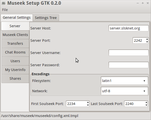 Ressources Debian :
Télécharger le paquet source museek+ :
Responsable :
Ressources externes :
Paquets similaires :
Gtk based museekd configuration utility
Museek+ is a file-sharing application for the Soulseek peer-to-peer network. It's a fork of Museek which now includes nearly all features supported by the official closed-source Soulseek client (Room Searching, Buddy-only shares, Interests, Banlists, Ignorelists, Icon Themes, Font/Color selecting, etc.)
X museekd configuration tool (Python/GTK2).
Autres paquets associés à musetup-gtk
dep:

museekd (>= 1:0.2+svn20100315.r1208-2)

Client for the SoulSeek peer-to-peer network (server daemon)

dep:

python (>= 2.4)

langage interactif de haut niveau orienté objet (version par défaut)

dep:

python-gtk2

liens (bindings) Python pour les widgets GTK+
Télécharger musetup-gtk
Télécharger pour toutes les architectures proposées

| Architecture | Taille du paquet | Espace occupé une fois installé | Fichiers |
| --- | --- | --- | --- |
| all | 65,3 ko | 291,0 ko | [liste des fichiers] |