Paquet : education-desktop-sugar (1.713+deb7u1)
Liens pour education-desktop-sugar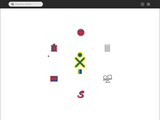 Ressources Debian :
Télécharger le paquet source debian-edu :
Responsables :
Ressources externes :
Paquets similaires :
Debian Edu sugar desktop environment
This metapackage depends on various sugar applications. Sugar is a graphical user interface aimed at children which promotes sharing and collaborative learning. It was introduced on the One Laptop Per Child (OLPC) XO laptop but is useful on other devices as well.
Autres paquets associés à education-desktop-sugar
sug:

etoys

A media-rich model, simulation construction kit and authoring tool

sug:

etoys-doc

Documentation for etoys

sug:

squeak-vm

le système Smalltalk Squeak (machine virtuelle)

sug:

sucrose-0.88

Paquet indisponible

sug:

sugar-browse-activity-0.86

Paquet indisponible

sug:

sugar-chat-activity-0.86

Paquet indisponible

sug:

sugar-doc

Paquet indisponible

sug:

sugar-emulator-0.88

Paquet indisponible

sug:

sugar-read-activity-0.86

Paquet indisponible

sug:

sugar-session-0.88

Paquet indisponible

sug:

sugar-write-activity-0.88

Paquet indisponible
Télécharger education-desktop-sugar
Télécharger pour toutes les architectures proposées

| Architecture | Taille du paquet | Espace occupé une fois installé | Fichiers |
| --- | --- | --- | --- |
| ia64 | 46,3 ko | 94,0 ko | [liste des fichiers] |