[ Paquet source :
mauve
]
Paquet : mauve (20120103-1)
Liens pour mauve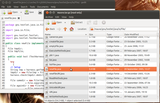 Ressources Debian :
Télécharger le paquet source mauve :
Responsables :
Ressources externes :
Paquets similaires :
free test suite for the Java Class libraries
Mauve is intended to test several different varieties of the libraries. For instance, it will contain tests that are specific to a particular JDK version. Tags in the test files help the test framework decide which tests should or should not be run against a given runtime.
Autres paquets associés à mauve
Télécharger mauve
Télécharger pour toutes les architectures proposées

| Architecture | Taille du paquet | Espace occupé une fois installé | Fichiers |
| --- | --- | --- | --- |
| all | 2 711,1 ko | 2 776,0 ko | [liste des fichiers] |