[ wheezy ]
Paquet : chromium-browser (37.0.2062.120-1~deb7u1)
Liens pour chromium-browser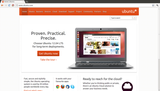 Ressources Debian :
Responsables :
Ressources externes :
Paquets similaires :
Chromium browser - transitional dummy package
Chromium is an open-source browser project that aims to build a safer, faster, and more stable way for all Internet users to experience the web.
Chromium serves as a base for Google Chrome, which is Chromium rebranded (name and logo) with very few additions such as usage tracking and an auto-updater system.
This package contains the Chromium browser transitional dummy package.
Autres paquets associés à chromium-browser
dep:

chromium (>= 10)

navigateur web libre google chromium
Télécharger chromium-browser
Télécharger pour toutes les architectures proposées

| Architecture | Taille du paquet | Espace occupé une fois installé | Fichiers |
| --- | --- | --- | --- |
| all | 167,5 ko | 1 693,0 ko | [liste des fichiers] |