Paquet : supercat (0.5.5-4)
Liens pour supercat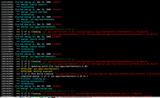 Ressources Debian :
Télécharger le paquet source supercat :
Responsable :
Ressources externes :
Paquets similaires :
program that colorizes text for terminals and HTML
Supercat is a program that colorizes text based on matching regular expressions/strings/characters. Supercat supports html output as well as standard ASCII text. Unlike some text-colorizing programs that exist, Supercat does not require you to have to be a programmer to make colorization rules.
Autres paquets associés à supercat
dep:

libc6 (>= 2.3.4)

bibliothèque C GNU embarquée : bibliothèques partagées
un paquet virtuel est également fourni par libc6-udeb
Télécharger supercat
Télécharger pour toutes les architectures proposées

| Architecture | Taille du paquet | Espace occupé une fois installé | Fichiers |
| --- | --- | --- | --- |
| i386 | 17,3 ko | 136,0 ko | [liste des fichiers] |