Paquet : quodlibet (3.7.1-2)
Liens pour quodlibet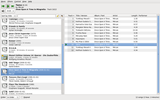 Ressources Debian :
Télécharger le paquet source quodlibet :
Responsables :
Ressources externes :
Paquets similaires :
audio library manager and player for GTK3
Quod Libet is a music management program. It provides several different ways to view your audio library, as well as support for Internet radio and audio feeds. It has extremely flexible metadata tag editing and searching capabilities, using the same interface as Ex Falso.
Supported formats include MP3, Ogg Vorbis, FLAC, Musepack (MPC), WavPack, and MOD/XM/IT.
Autres paquets associés à quodlibet
greffons GStreamer de la série « bad »
Télécharger quodlibet
Télécharger pour toutes les architectures proposées

| Architecture | Taille du paquet | Espace occupé une fois installé | Fichiers |
| --- | --- | --- | --- |
| all | 54,9 ko | 104,0 ko | [liste des fichiers] |