Paquet : q4wine (0.118-5)
Liens pour q4wine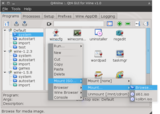 Ressources Debian :
Télécharger le paquet source q4wine :
Responsable :
Ressources externes :
Paquets similaires :
Qt4 GUI for wine (W.I.N.E)
Q4Wine will help you manage wine prefixes and installed applications.
General features:

 - Can export Qt color theme into wine colors settings.
 - Can easy work with different wine versions at same time;
 - Easy creating, deleting and managing prefixes (WINEPREFIX);
 - Easy controlling for wine process;
 - Easy installer wizard for wine applications; (Not yet. Wait for v. 0.120)
 - autostart icons support;
 - Easy cd-image use;
 - FuseISO\Embedded FuseISO mount profiles;
 - You can extract icons from PE files (.exe .dll);
 - Easy backup and restore for managed prefixes.
 - Winetriks support.
 - and more...

Autres paquets associés à q4wine
sug:

fuseiso

Module FUSE pour monter les images de systèmes de fichiers ISO
Télécharger q4wine
Télécharger pour toutes les architectures proposées

| Architecture | Taille du paquet | Espace occupé une fois installé | Fichiers |
| --- | --- | --- | --- |
| mipsel | 1 130,4 ko | 4 232,0 ko | [liste des fichiers] |