[ squeeze ]
[ Paquet source :
jlgui
]
Paquet : jlgui (3.0-10)
Liens pour jlgui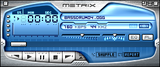 Ressources Debian :
Télécharger le paquet source jlgui :
Responsables :
Ressources externes :
Paquets similaires :
graphical music player
jlGui is a Music Player application for the Java Platform. It supports MP3, OGG Vorbis, FLAC, MONKEY's AUDIO, WAV, AIFF, AU and SPEEX audio formats. Front-end is WinAmp skins 2.0 compliant.
Autres paquets associés à jlgui
Télécharger jlgui
Télécharger pour toutes les architectures proposées

| Architecture | Taille du paquet | Espace occupé une fois installé | Fichiers |
| --- | --- | --- | --- |
| all | 542,0 ko | 3 444,0 ko | [liste des fichiers] |