[ Paquet source :
ember
]
Paquet : ember (0.5.7-1.1)
Liens pour ember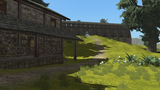 Ressources Debian :
Télécharger le paquet source ember :
Responsable :
Ressources externes :
Paquets similaires :
3D client of the WorldForge project
Ember is a client framework for Worldforge. It's not meant to be a standalone game, instead its purpose is to provide a solid and extensible base from which to build game-specific clients. One of the goals of Ember is to allow for easy customization of the codebase. Currently it supports the game world of Mason.
Autres paquets associés à ember
Télécharger ember
Télécharger pour toutes les architectures proposées

| Architecture | Taille du paquet | Espace occupé une fois installé | Fichiers |
| --- | --- | --- | --- |
| amd64 | 2 185,1 ko | 6 540,0 ko | [liste des fichiers] |