Paquet : virtualbox-ext-pack (6.1.8-1) [contrib]
Liens pour virtualbox-ext-pack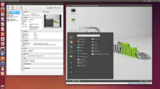 Ressources Debian :
Responsables :
Ressources externes :
Paquets similaires :
extra capabilities for VirtualBox, downloader.
VirtualBox requires an extension pack to provide support for Remote Desktop Protocol, USB 2.0, PXE booting for Intel network cards, etc. This PUEL-licensed extension pack is free for personal use.
This package downloads the extension pack from internet during install.
Autres paquets associés à virtualbox-ext-pack
dep:

debconf

Système de gestion de configuration Debian
dep:

debconf (>= 0.5)

Système de gestion de configuration Debian

ou debconf-2.0

paquet virtuel fourni par cdebconf, cdebconf-udeb, debconf

dep:

virtualbox (<< 6.1.8-dfsg-z)

x86 virtualization solution - base binaries

ou virtualbox-6.1

Paquet indisponible

dep:

virtualbox (>= 6.1.8-dfsg-0~)

ou virtualbox-6.1

dep:

wget

récupération de fichiers sur le réseau
Télécharger virtualbox-ext-pack
Télécharger pour toutes les architectures proposées

| Architecture | Taille du paquet | Espace occupé une fois installé | Fichiers |
| --- | --- | --- | --- |
| all | 12,7 ko | 127,0 ko | [liste des fichiers] |