Paquet : python-colorama (0.3.7-1)
Liens pour python-colorama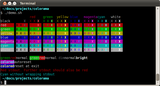 Ressources Debian :
Télécharger le paquet source python-colorama :
Responsables :
Ressources externes :
Paquets similaires :
Cross-platform colored terminal text in Python - Python 2.x
Python-colorama provides a simple cross-platform API to print colored terminal text from Python applications.
ANSI escape character sequences are commonly used to produce colored terminal text on Unix. Colorama provides some shortcuts to generate these sequences.
This has the happy side-effect that existing applications or libraries which already use ANSI sequences to produce colored output on Linux.
This package provides the module for Python 2.
Autres paquets associés à python-colorama
dep:

python

langage interactif de haut niveau orienté objet (version Python2)
Télécharger python-colorama
Télécharger pour toutes les architectures proposées

| Architecture | Taille du paquet | Espace occupé une fois installé | Fichiers |
| --- | --- | --- | --- |
| all | 25,1 ko | 89,0 ko | [liste des fichiers] |