Paquet : moka-icon-theme (5.4.0.1-1)
Liens pour moka-icon-theme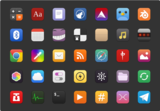 Ressources Debian :
Télécharger le paquet source moka-icon-theme :
Responsable :
Ressources externes :
Paquets similaires :
Tango-esque desktop icon set called Moka
Moka is a stylized Tango-esque Linux desktop icon set. They are designed to be a clear, simple and consistent. Moka is designed to work with the Faba icon set - together they provide both applications and panel based icons.
Autres paquets associés à moka-icon-theme
Télécharger moka-icon-theme
Télécharger pour toutes les architectures proposées

| Architecture | Taille du paquet | Espace occupé une fois installé | Fichiers |
| --- | --- | --- | --- |
| all | 52 193,8 ko | 86 394,0 ko | [liste des fichiers] |