Paquet : gosa (2.7.4+reloaded3-8)
Liens pour gosa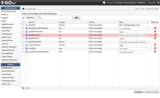 Ressources Debian :
Télécharger le paquet source gosa :
Responsables :
Ressources externes :
Paquets similaires :
Web Based LDAP Administration Program
Provided is access to posix, shadow, samba, proxy, fax, pureftp and kerberos accounts. It is able to manage the postfix/cyrus server combination and can write user adapted sieve scripts.
GOsa² is a combination of system-administrator and end-user web interface, designed to handle LDAP based setups.
Autres paquets associés à gosa
sug:

cyrus21-imapd (>= 2.1.11)

Paquet indisponible

sug:

gosa-schema

schéma de LDAP pour GOsa²

sug:

php-fpdf

classe de PHP de création de fichiers PDF

sug:

php-suhosin

Paquet indisponible

sug:

postfix-ldap

LDAP map support for Postfix

sug:

slapd

OpenLDAP server (slapd)
Télécharger gosa
Télécharger pour toutes les architectures proposées

| Architecture | Taille du paquet | Espace occupé une fois installé | Fichiers |
| --- | --- | --- | --- |
| all | 1 128,7 ko | 6 508,0 ko | [liste des fichiers] |