Paquet : faba-icon-theme (4.3-1)
Liens pour faba-icon-theme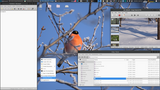 Ressources Debian :
Télécharger le paquet source faba-icon-theme :
Responsable :
Ressources externes :
Paquets similaires :
Tango influenced icon theme called Faba
Faba is was designed with simplicity and compliance to icon standards in mind. Its purpose is to serve as a base icon theme to other themes (such as Moka). As such, Faba is only comprised of minimal set of icons for the system, select apps, folders, mimetypes, toolbars, etc.
Autres paquets associés à faba-icon-theme
Télécharger faba-icon-theme
Télécharger pour toutes les architectures proposées

| Architecture | Taille du paquet | Espace occupé une fois installé | Fichiers |
| --- | --- | --- | --- |
| all | 683,2 ko | 9 936,0 ko | [liste des fichiers] |