Paquet : php-horde-mnemo (4.2.14-3)
Liens pour php-horde-mnemo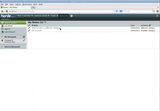 Ressources Debian :
Télécharger le paquet source php-horde-mnemo :
Responsables :
Ressources externes :
Paquets similaires :
A web based notes manager
The Mnemo Note Manager is the Horde notes/memos application. It allows users to keep web-based notes and freeform text. Notes may be shared with other users via shared notepads. It requires the Horde Application Framework and an SQL database or Kolab server for backend storage.
This package is part of Horde, a web application Framework written in PHP with modules like IMP (webmail), Turba (contacts), Kronolith (calendar), Nag (task list), Gollem (file manager), etc.
Autres paquets associés à php-horde-mnemo
Télécharger php-horde-mnemo
Télécharger pour toutes les architectures proposées

| Architecture | Taille du paquet | Espace occupé une fois installé | Fichiers |
| --- | --- | --- | --- |
| all | 619,8 ko | 3 622,0 ko | [liste des fichiers] |