Paquet : opendnssec (1:1.4.6-6)
Liens pour opendnssec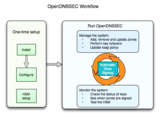 Ressources Debian :
Télécharger le paquet source opendnssec :
Responsable :
Ressources externes :
Paquets similaires :
dependency package to install full OpenDNSSEC suite
OpenDNSSEC is a complete DNSSEC zone signing system which is very easy to use with stability and security in mind. There are a lot of details in signing zone files with DNSSEC and OpenDNSSEC covers most of it.
This meta-package depends on the standard distribution of OpenDNSSEC.
Autres paquets associés à opendnssec
Télécharger opendnssec
Télécharger pour toutes les architectures proposées

| Architecture | Taille du paquet | Espace occupé une fois installé | Fichiers |
| --- | --- | --- | --- |
| all | 27,8 ko | 61,0 ko | [liste des fichiers] |