[ jessie ]
Paquet : gnome-themes-extras (2.22.0-3)
Liens pour gnome-themes-extras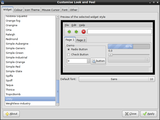 Ressources Debian :
Responsables :
Paquets similaires :
extra themes for the GNOME desktop
This package contains a few nice contributed themes for the GNOME desktop. It includes the following global themes:

 * Darklooks, a dark version of the standard Clearlooks theme.
 * Unity, a smooth and rounded theme.

It also includes some icon themes for the desktop:

 * GNOME Alternative, which is similar to the standard GNOME icon
   theme.
 * Foxtrot, a simple theme in yellow tones.
 * Dropline Neu, a flashy and colorful theme resembling Dropline
   GNOME.
 * Gion, an original and sober theme.

Autres paquets associés à gnome-themes-extras
dep:

gtk2-engines (>= 1:2.14)

Moteur de thèmes pour GTK+ 2.x

dep:

librsvg2-common

bibliothèque de rendu pour fichiers SVG basée sur SAX - exécutables supplémentaires
rec:

gnome-themes-more

Paquet indisponible
Télécharger gnome-themes-extras
Télécharger pour toutes les architectures proposées

| Architecture | Taille du paquet | Espace occupé une fois installé | Fichiers |
| --- | --- | --- | --- |
| all | 4 587,1 ko | 12 698,0 ko | [liste des fichiers] |