Paquet : haci (0.97c-3)
Liens pour haci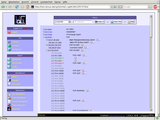 Ressources Debian :
Télécharger le paquet source haci :
Responsable :
Ressources externes :
Paquets similaires :
web based IP(v6) address and network administration tool
HaCi is an IP Address / Network Administration Tool with IPv6 support. It stores its data efficiently in a relational database and uses a treelike structure to illustrate supernets and subnets. Additional data can be linked to each network following user defined templates.
Autres paquets associés à haci
Télécharger haci
Télécharger pour toutes les architectures proposées

| Architecture | Taille du paquet | Espace occupé une fois installé | Fichiers |
| --- | --- | --- | --- |
| all | 493,7 ko | 1 154,0 ko | [liste des fichiers] |