Paquet : ekg2 (1:0.4~pre+20120506.1-16 et autres)
Liens pour ekg2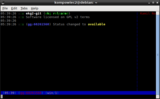 Ressources Debian :
Télécharger le paquet source ekg2 :
Responsable :
Ressources externes :
Paquets similaires :
instant messenger and IRC client for UNIX systems
EKG2 is an open source instant messenger program for UNIX systems. The program has a plugin-based structure, and supports multiple protocols, currently Jabber, ICQ, Gadu-Gadu, IRC, RivChat, PolChat, NNTP and RSS.
The program has many useful features. Here is a list - unless specified they are included in the ekg2-core package.

  - irssi-like ncurses interface, with mouse support [ekg2-ui-ncurses]
  - experimental GTK+ interface [ekg2-ui-gtk]
  - spell checking [ekg2-ui-ncurses]
  - jogger.pl blog update support
  - a simple CAPTCHA (autoresponder)
  - Python and Perl scripting [ekg2-scripting-python, ekg2-scripting-perl]
  - launching shell commands on certain events
  - encryption support (SIM, GnuPG) [ekg2-core, ekg2-gnupg]
  - logging to SQLite, plain text or XML files
  - sending SMs (using an external program such as sms-pl)
  - mail checking

This is a metapackage which depends on a set of commonly used EKG2 packages.
Autres paquets associés à ekg2
dep:

ekg2-core (= 1:0.4~pre+20120506.1-16+b1)

client de messagerie instantanée et IRC pour les systèmes Unix – programme principal

dep:

ekg2-jabber (= 1:0.4~pre+20120506.1-16+b1)

instant messenger and IRC client for UNIX systems - Jabber/XMPP

dep:

ekg2-ui-ncurses (= 1:0.4~pre+20120506.1-16+b1)

instant messenger and IRC client for UNIX systems - ncurses interface
Télécharger ekg2
Télécharger pour toutes les architectures proposées

| Architecture | Version | Taille du paquet | Espace occupé une fois installé | Fichiers |
| --- | --- | --- | --- | --- |
| armel | 1:0.4~pre+20120506.1-16+b1 | 1,4 ko | 6,0 ko | [liste des fichiers] |