Paketti: usemod-wiki (1.0.5-1+deb7u1)
Links for usemod-wiki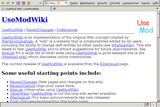 Debian-palvelut:
Imuroi lähdekoodipaketti usemod-wiki:
Ylläpitäjä:
External Resources:
Samankaltaisia paketteja:
Perl-based Wiki clone
UseMod is a reimplementation/clone of the original Wiki concept created by Ward Cunningham. A "wiki" is a website that is collaboratively edited by its users, including the ability to alter text written by other users.
UseMod provides common wiki features as well as unique features: recent changes, conflict resolution, difference links, subpages, interwiki links, full text searching, free links (for free-form wiki names), administrative features.
Muut pakettiin usemod-wiki liittyvät paketit
dep:

apache2

Apache HTTP Server metapackage
myös näennäispaketti, jonka toteuttaa apache2-mpm-event, apache2-mpm-itk, apache2-mpm-prefork, apache2-mpm-worker

tai httpd

näennäispaketti, jonka toteuttaa aolserver4-core, aolserver4-daemon, apache2-mpm-event, apache2-mpm-itk, apache2-mpm-prefork, apache2-mpm-worker, boa, bozohttpd, ebhttpd, lighttpd, micro-httpd, mini-httpd, nginx-extras, nginx-full, nginx-light, nginx-naxsi, nginx-naxsi-ui, ocsigen, ocsigenserver, tntnet, webfs, yaws

dep:

perl

Larry Wallin kieli tekstitiedostojen analysointia ja raportointia varten
sug:

default-mta

näennäispaketti, jonka toteuttaa exim4-daemon-light
näennäispaketti, jonka toteuttaa citadel-mta, courier-mta, esmtp-run, exim4-daemon-heavy, exim4-daemon-light, lsb-invalid-mta, masqmail, msmtp-mta, nullmailer, postfix, qmail-run, sendmail-bin, ssmtp, xmail
Imuroi usemod-wiki
Imurointi kaikille saataville arkkitehtuureille

| Arkkitehtuuri | Paketin koko | Koko asennettuna | Tiedostot |
| --- | --- | --- | --- |
| all | 63.3 kt | 264.0 kt | [tiedostoluettelo] |