Paketti: netmask (2.3.12)
Links for netmask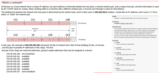 Debian-palvelut:
Imuroi lähdekoodipaketti netmask:
Ylläpitäjä:
Samankaltaisia paketteja:
helps determine network masks
This is a tiny program handy if you work with firewalls or routers occasionally (possibly using this as a helper for shell scripts). It can determine the smallest set of network masks to specify a range of hosts. It can also convert between common IP netmask and address formats.
Muut pakettiin netmask liittyvät paketit
dep:

dpkg (>= 1.15.4)

Debian-paketinhallintajärjestelmä

tai install-info

Hallitse info-muotoisia asennettuja ohjeita

dep:

libc6 (>= 2.6)

Sulautettu GNU C -kirjasto: jaetut kirjastot
myös näennäispaketti, jonka toteuttaa libc6-udeb
Imuroi netmask
Imurointi kaikille saataville arkkitehtuureille

| Arkkitehtuuri | Paketin koko | Koko asennettuna | Tiedostot |
| --- | --- | --- | --- |
| sparc | 20.1 kt | 84.0 kt | [tiedostoluettelo] |