Paketti: gdb (7.4.1+dfsg-0.1)
Links for gdb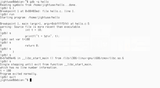 Debian-palvelut:
Imuroi lähdekoodipaketti gdb:
Ylläpitäjät:
External Resources:
Samankaltaisia paketteja:
The GNU Debugger
GDB is a source-level debugger, capable of breaking programs at any specific line, displaying variable values, and determining where errors occurred. Currently, gdb supports C, C++, D, Objective-C, Fortran, Java, OpenCL C, Pascal, assembly, Modula-2, and Ada. A must-have for any serious programmer.
Muut pakettiin gdb liittyvät paketit
sug:

gdb-doc

The GNU Debugger Documentation
Imuroi gdb
Imurointi kaikille saataville arkkitehtuureille

| Arkkitehtuuri | Paketin koko | Koko asennettuna | Tiedostot |
| --- | --- | --- | --- |
| sparc | 2,014.1 kt | 6,118.0 kt | [tiedostoluettelo] |