Paketti: etherape (0.9.12-1)
Links for etherape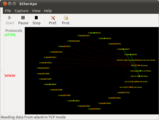 Debian-palvelut:
Imuroi lähdekoodipaketti etherape:
Ylläpitäjä:
External Resources:
Samankaltaisia paketteja:
graphical network monitor
EtherApe is a graphical network monitor modeled after etherman. it displays network activity graphically, showing active hosts as circles of varying size, and traffic among them as lines of varying width.
It features link layer, ip and TCP modes, color-color coded protocols display, Ethernet, FDDI, Token Ring, ISDN, PPP and SLIP devices. It can filter traffic to be shown, and can read traffic from a file as well as live from the network.
Muut pakettiin etherape liittyvät paketit
rec:

menu

generates programs menu for all menu-aware applications
Imuroi etherape
Imurointi kaikille saataville arkkitehtuureille

| Arkkitehtuuri | Paketin koko | Koko asennettuna | Tiedostot |
| --- | --- | --- | --- |
| sparc | 866.4 kt | 3,102.0 kt | [tiedostoluettelo] |