Paketti: wifi-radar (2.0.s08+dfsg-1.1)
Links for wifi-radar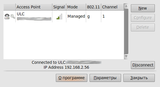 Debian-palvelut:
Imuroi lähdekoodipaketti wifi-radar:
Ylläpitäjä:
External Resources:
Samankaltaisia paketteja:
graphical utility for managing Wi-Fi profiles
WiFi Radar enables you to scan for available wireless networks and create profiles containing the network configuration options for your preferred networks. You can drag and drop your preferred networks to arrange the profile priority.
You need to have root access to use this program.
Muut pakettiin wifi-radar liittyvät paketit
rec:

wpasupplicant

client support for WPA and WPA2 (IEEE 802.11i)
Imuroi wifi-radar
Imurointi kaikille saataville arkkitehtuureille

| Arkkitehtuuri | Paketin koko | Koko asennettuna | Tiedostot |
| --- | --- | --- | --- |
| all | 51.2 kt | 220.0 kt | [tiedostoluettelo] |