Paketti: alpine (2.02+dfsg-2)
Links for alpine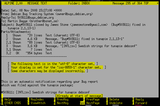 Debian-palvelut:
Imuroi lähdekoodipaketti alpine:
Ylläpitäjät:
External Resources:
Samankaltaisia paketteja:
Text-based email client, friendly for novices but powerful
Alpine is an upgrade of the well-known PINE email client. Its name derives from the use of the Apache License and its ties to PINE.
It features a full suite of support for mail protocols like IMAP and SMTP and security protocols like TLS. It uses curses for its interface.
Muut pakettiin alpine liittyvät paketit
rec:

alpine-doc

Text-based email client's documentation
sug:

aspell

GNU Aspell -oikolukija

sug:

mail-transport-agent

näennäispaketti, jonka toteuttaa citadel-mta, courier-mta, esmtp-run, exim4-daemon-heavy, exim4-daemon-light, lsb-invalid-mta, masqmail, msmtp-mta, nullmailer, postfix, qmail-run, sendmail-bin, ssmtp, xmail

tai exim4

metapaketti helpottamaan Exim MTA (v4) -sähköpostipalvelimen asentamista
Imuroi alpine
Imurointi kaikille saataville arkkitehtuureille

| Arkkitehtuuri | Paketin koko | Koko asennettuna | Tiedostot |
| --- | --- | --- | --- |
| s390 | 3,144.5 kt | 7,002.0 kt | [tiedostoluettelo] |