Paketti: pybridge (0.3.0-7.1)
Links for pybridge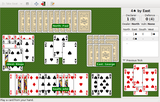 Debian-palvelut:
Imuroi lähdekoodipaketti pybridge:
Ylläpitäjä:
External Resources:
Samankaltaisia paketteja:
An online contract bridge game. Gtk client
PyBridge lets you play the card game of contract bridge, with human players, over the Internet or a local network. The PyBridge project aims to provide a featureful cross-platform alternative to existing online bridge services.
This package provides a PyGTK / Glade front-end user interface through which games are played
Muut pakettiin pybridge liittyvät paketit
Imuroi pybridge
Imurointi kaikille saataville arkkitehtuureille

| Arkkitehtuuri | Paketin koko | Koko asennettuna | Tiedostot |
| --- | --- | --- | --- |
| all | 131.2 kt | 492.0 kt | [tiedostoluettelo] |