[ wheezy ]
Paketti: gpe-filemanager (0.31-2)
Links for gpe-filemanager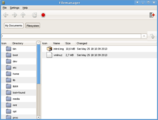 Debian-palvelut:
Ylläpitäjät:
External Resources:
Samankaltaisia paketteja:
file manager for GPE
The GPE Filemanager provides a simple graphical interface for accessing and manipulating files.
gpe-filemanager makes use of the GNOME virtual filesystem, allowing access to a variety of filesystem backends including FTP, SMB or SSH. It implements freedesktop.org specified mime type identification and application selection so that gpe-filemanager is able to launch applications associated to a certain file type.
The user interface is designed to scale from small portrait mode PDA displays (QVGA, 240x320) up to resolutions typical for web pads and notebooks.
This package is part of the GPE Palmtop Environment, intended to be used on palmtop computers.
Muut pakettiin gpe-filemanager liittyvät paketit
Imuroi gpe-filemanager
Imurointi kaikille saataville arkkitehtuureille

| Arkkitehtuuri | Paketin koko | Koko asennettuna | Tiedostot |
| --- | --- | --- | --- |
| powerpc | 130.1 kt | 342.0 kt | [tiedostoluettelo] |