Paketti: xonix (1.4-29)
Links for xonix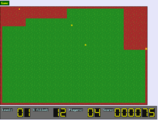 Debian-palvelut:
Imuroi lähdekoodipaketti xonix:
Ylläpitäjä:
Samankaltaisia paketteja:
game to carve up the screen whilst dodging monsters
A clone of the Xonix game for DOS. Start with a rectangle, and munch corners off until you get below the winning area: then proceed to the next level. But beware of the roaming aliens!
Muut pakettiin xonix liittyvät paketit
Imuroi xonix
Imurointi kaikille saataville arkkitehtuureille

| Arkkitehtuuri | Paketin koko | Koko asennettuna | Tiedostot |
| --- | --- | --- | --- |
| powerpc | 29.0 kt | 125.0 kt | [tiedostoluettelo] |