Paketti: netenv (0.94.3-30)
Links for netenv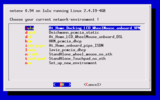 Debian-palvelut:
Imuroi lähdekoodipaketti netenv:
Ylläpitäjä:
External Resources:
Samankaltaisia paketteja:
Configure your system for different network environments
Netenv lets you choose your network environment (and other things) upon boot, which is useful for notebook computers. The difference to similar packages is that it doesn't try to autodetect your environment, but expects your input. You can, however, specify a default or pass it a parameter from the boot prompt to allow for unattended boot. You can also use it to switch between environments without rebooting.
It will work with PCMCIA or builtin network cards.
Muut pakettiin netenv liittyvät paketit
Imuroi netenv
Imurointi kaikille saataville arkkitehtuureille

| Arkkitehtuuri | Paketin koko | Koko asennettuna | Tiedostot |
| --- | --- | --- | --- |
| all | 85.4 kt | 287.0 kt | [tiedostoluettelo] |