Paketti: val-and-rick (0.1a.dfsg1-3)
Links for val-and-rick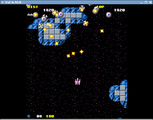 Debian-palvelut:
Imuroi lähdekoodipaketti val-and-rick:
Ylläpitäjät:
Samankaltaisia paketteja:
shooter game
Val & Rick is probably the precursor to Gunroar, featuring similar controls but in a different environment. Only 2D sprites and backgrounds are used in what seems like a tribute to Xevious and Star Soldier.
Val & Rick is another gem among many by Kenta Cho.
Muut pakettiin val-and-rick liittyvät paketit
Imuroi val-and-rick
Imurointi kaikille saataville arkkitehtuureille

| Arkkitehtuuri | Paketin koko | Koko asennettuna | Tiedostot |
| --- | --- | --- | --- |
| mipsel | 210.8 kt | 1,103.0 kt | [tiedostoluettelo] |