[ wheezy ]
Paketti: battleball (2.0-17)
Links for battleball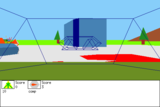 Debian-palvelut:
Imuroi lähdekoodipaketti battleball:
Ylläpitäjä:
Samankaltaisia paketteja:
soccer game played with tanks or helicopters
BattleBall is essentially the game of soccer, played with military vehicles rather than with people. Each player drives a tank or flies a helicopter, and tries to move the ball down the playfield to the other team's goal. Relatively unlimited number of human or computer players can compete in teams or head-to-head.
Muut pakettiin battleball liittyvät paketit
Imuroi battleball
Imurointi kaikille saataville arkkitehtuureille

| Arkkitehtuuri | Paketin koko | Koko asennettuna | Tiedostot |
| --- | --- | --- | --- |
| kfreebsd-i386 | 99.0 kt | 290.0 kt | [tiedostoluettelo] |