Paketti: newmail (0.5-2)
Links for newmail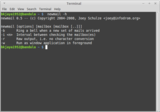 Debian-palvelut:
Imuroi lähdekoodipaketti newmail:
Ylläpitäjä:
External Resources:
Samankaltaisia paketteja:
Notificator for incoming mail
The newmail program usually puts itself in the background and watches mailbox files in order to report when new mail has been arrived. The originator and subject will then be reported on the terminal it was started. The output can also be integrated in graphical programs.
This package is inspired by the newmail program from the Elm mail system.
Muut pakettiin newmail liittyvät paketit
dep:

libc0.1 (>= 2.3)

Sulautettu GNU C -kirjasto: jaetut kirjastot
myös näennäispaketti, jonka toteuttaa libc0.1-udeb
Imuroi newmail
Imurointi kaikille saataville arkkitehtuureille

| Arkkitehtuuri | Paketin koko | Koko asennettuna | Tiedostot |
| --- | --- | --- | --- |
| kfreebsd-amd64 | 13.9 kt | 48.0 kt | [tiedostoluettelo] |