Paketti: ssh-askpass (1:1.2.4.1-9)
Links for ssh-askpass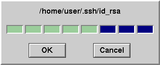 Debian-palvelut:
Imuroi lähdekoodipaketti ssh-askpass:
Ylläpitäjä:
External Resources:
Samankaltaisia paketteja:
under X, asks user for a passphrase for ssh-add
This is Jim Knoble's free implementation of the ssh-askpass program.
Jim calls this x11-ssh-askpass, but I've decided to call it ssh-askpass to make it easier to find, because this is almost certainly the version you want. Other ssh-askpass programs are available, some of which may integrate better into various desktop environments.
Paketit, jotka toteuttavat paketin ssh-askpass
interactively prompt users for a passphrase for ssh-add
command line interface to the KDE Wallet
Under Gnome2, asks user for a passphrase for ssh-add
interactive X program to prompt users for a passphrase for ssh-add
Muut pakettiin ssh-askpass liittyvät paketit
Imuroi ssh-askpass
Imurointi kaikille saataville arkkitehtuureille

| Arkkitehtuuri | Paketin koko | Koko asennettuna | Tiedostot |
| --- | --- | --- | --- |
| i386 | 32.5 kt | 148.0 kt | [tiedostoluettelo] |