Paketti: ttf-atarismall (2.1-4)
Links for ttf-atarismall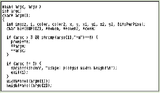 Debian-palvelut:
Ylläpitäjät:
External Resources:
Samankaltaisia paketteja:
Very small 4 x 8 font
This is named atari small because it was designed for a terminal emulator written for an Atari 800. It only had a 320 pixel wide display, but an 80 column terminal was wanted, hence there is this font. This is somewhat cleaned up from the original version. It has only a one pixel descent to maximize pixels available to the main body of each character.
Imuroi ttf-atarismall
Imurointi kaikille saataville arkkitehtuureille

| Arkkitehtuuri | Paketin koko | Koko asennettuna | Tiedostot |
| --- | --- | --- | --- |
| all | 30.3 kt | 164.0 kt | [tiedostoluettelo] |