Paketti: xrdp (0.5.0-2+deb7u1) [security]
Links for xrdp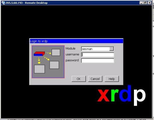 Debian-palvelut:
Imuroi lähdekoodipaketti xrdp:
Ylläpitäjä:
External Resources:
Samankaltaisia paketteja:
Remote Desktop Protocol (RDP) server
Based on research work by the rdesktop project, xrdp uses the Remote Desktop Protocol to present a graphical login to a remote client. xrdp can connect to a VNC server or another RDP server.
Microsoft Windows users can connect to a system running xrdp without installing additional software.
Muut pakettiin xrdp liittyvät paketit
Imuroi xrdp
Imurointi kaikille saataville arkkitehtuureille

| Arkkitehtuuri | Paketin koko | Koko asennettuna | Tiedostot |
| --- | --- | --- | --- |
| armel | 243.6 kt | 1,392.0 kt | [tiedostoluettelo] |