Paketti: education-desktop-sugar (1.713+deb7u1)
Links for education-desktop-sugar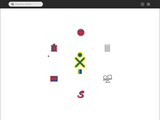 Debian-palvelut:
Imuroi lähdekoodipaketti debian-edu:
Ylläpitäjät:
External Resources:
Samankaltaisia paketteja:
Debian Edu sugar desktop environment
This metapackage depends on various sugar applications. Sugar is a graphical user interface aimed at children which promotes sharing and collaborative learning. It was introduced on the One Laptop Per Child (OLPC) XO laptop but is useful on other devices as well.
Muut pakettiin education-desktop-sugar liittyvät paketit
sug:

etoys

A media-rich model, simulation construction kit and authoring tool

sug:

etoys-doc

Documentation for etoys

sug:

squeak-vm

Squeak-smalltalkjärjestelmä (virtuaalikone)

sug:

sucrose-0.88

Paketti ei saatavilla

sug:

sugar-browse-activity-0.86

Paketti ei saatavilla

sug:

sugar-chat-activity-0.86

Paketti ei saatavilla

sug:

sugar-doc

Paketti ei saatavilla

sug:

sugar-emulator-0.88

Paketti ei saatavilla

sug:

sugar-read-activity-0.86

Paketti ei saatavilla

sug:

sugar-session-0.88

Paketti ei saatavilla

sug:

sugar-write-activity-0.88

Paketti ei saatavilla
Imuroi education-desktop-sugar
Imurointi kaikille saataville arkkitehtuureille

| Arkkitehtuuri | Paketin koko | Koko asennettuna | Tiedostot |
| --- | --- | --- | --- |
| armel | 46.1 kt | 94.0 kt | [tiedostoluettelo] |