Paketti: xfe-themes (1.42-1)
Links for xfe-themes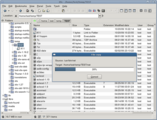 Debian-palvelut:
Imuroi lähdekoodipaketti xfe:
Ylläpitäjä:
External Resources:
Samankaltaisia paketteja:
lightweight file manager for X11 (themes)
Xfe is based on the popular but discontinued X Win Commander. It is desktop independent and is written using the C++ Fox Toolkit. Its appearance is similar to the Windows file-manager Total Commander or Windows Explorer. It is very fast and simple.
This package contains all icon themes for xfe and its utils.
Imuroi xfe-themes
Imurointi kaikille saataville arkkitehtuureille

| Arkkitehtuuri | Paketin koko | Koko asennettuna | Tiedostot |
| --- | --- | --- | --- |
| all | 645.5 kt | 2,567.0 kt | [tiedostoluettelo] |