Paketti: postfixadmin (3.0.2-2)
Links for postfixadmin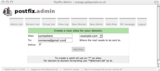 Debian-palvelut:
Imuroi lähdekoodipaketti postfixadmin:
Ylläpitäjät:
External Resources:
Samankaltaisia paketteja:
Virtual mail hosting interface for Postfix
Postfixadmin is a web interface to manage virtual users and domains for a Postfix mail transport agent. It supports Virtual mailboxes, aliases, forwarders and vacation.
Postfixadmin allows administrators to delegate account handling to domain administrators and allows users to login and change their own settings (e.g. forwarders, vacation, passwords etc).
It provides easy integration into dovecot, courier or cyrus.
Postfixadmin is written in PHP.
Muut pakettiin postfixadmin liittyvät paketit
rec:

dovecot-core

secure POP3/IMAP server - core files
MySQL support for the Courier authentication library
PostgreSQL support for the Courier authentication library

rec:

mariadb-server

MariaDB database server (metapackage depending on the latest version)

rec:

php-cli

command-line interpreter for the PHP scripting language (default)
myös näennäispaketti, jonka toteuttaa php7.0-cli

rec:

postfix-mysql

MySQL map support for Postfix

tai postfix-pgsql

PostgreSQL map support for Postfix

rec:

virtual-mysql-server

näennäispaketti, jonka toteuttaa mariadb-server-10.1

tai postgresql

object-relational SQL database (supported version)

tai sqlite (>= 3.12.0)

command line interface for SQLite 2

rec:

zendframework

Paketti ei saatavilla
Imuroi postfixadmin
Imurointi kaikille saataville arkkitehtuureille

| Arkkitehtuuri | Paketin koko | Koko asennettuna | Tiedostot |
| --- | --- | --- | --- |
| all | 991.0 kt | 3,675.0 kt | [tiedostoluettelo] |