Paketti: monobristol (0.60.3-3)
Links for monobristol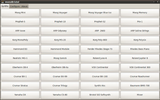 Debian-palvelut:
Imuroi lähdekoodipaketti monobristol:
Ylläpitäjä:
External Resources:
Samankaltaisia paketteja:
simple GUI for Bristol
monobristol provides a simple GUI for Bristol.
Bristol is synth emulation package for a diverse range of vintage synthesizers, electric pianos and organs. The application consists of a multithreaded audio synthesizer and a user interface called brighton.
Muut pakettiin monobristol liittyvät paketit
rec:

jackd

JACK Audio Connection Kit (default server package)
Imuroi monobristol
Imurointi kaikille saataville arkkitehtuureille

| Arkkitehtuuri | Paketin koko | Koko asennettuna | Tiedostot |
| --- | --- | --- | --- |
| all | 27.8 kt | 268.0 kt | [tiedostoluettelo] |